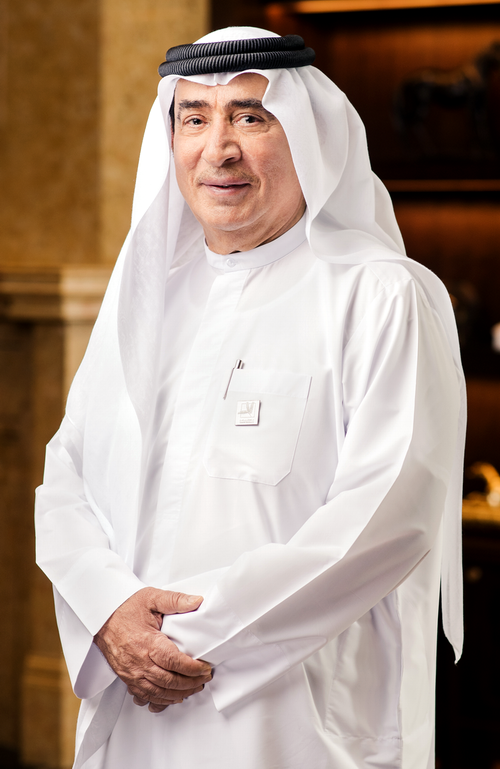 Abdulla Mohamed Al Mulla
Owner, Founder & Chairman, Spark Group
Background
At the age of just 25, Brig. Abdulla Mohamed Al Mulla first demonstrated his entrepreneurship, vision, and business acumen with the foundation of two UAE national wholly owned organisations: Spark Maintenance and Oilfield Services, and Spark Security Services. His drive and dedication to excellence in all of his business dealings has led to both businesses becoming recognised nationally and regionally as leading organisations in their respective industries.

Businesses
It would be difficult to overstate Brig. Abdulla Mohamed Al Mulla's entrepreneurship and business acumen. After founding Spark Maintenance and Oilfield Services, and Spark Security Services and establishing both as recognised experts in their fields, Abdulla went on to found several other businesses, including Spark Development and Trading, AMRAC, 4 Seasons Travel, and Spark Residence Hotel Apartments. Guided by his vision and entrepreneurial expertise, the Spark Group now comprises eight profitable companies that together employ over 7000 highly qualified personnel, andstretch across the UAE region. We are proud to report that all Spark Group companies remain fully UAE owned.

Governmental background
In addition to his impressive business career, Brig. Abdulla Mohamed Al Mulla was and remains a recognisable figure within the UAE Ministries. From 1977, he formed a key part of the Ministry of the Interior's General Directorate of Residency and Foreign Affairs. During this time, he held such prestigious positions as Executive in charge of the Seih Shuaib Unit, and Lead Officer in the establishment of Al Ain Department. For eighteen years, during the institutionalization of the UAE, he was the Head of the Abu Dhabi Department of Citizenship. His recognised expertise in security led to him joining the Ministry of Defence in 1988, where he was a key part of the UAE's Coast and Border Guard Forces. He remained with that department until 2007, when he retired from service at the rank of Brigadier.
Al Anood Abdulla Al Mulla
CEO
Background
Engr Al Anood Abdulla Al Mulla is currently the CEO of Spark Security Services and has more than 15 years of experience in compliance, security, and risk and crisis management, Al Anood has firmly established an outstanding reputation within the security industry. becoming the first female to be certified as a Security Manager by the Abu Dhabi Police. She remains focused on employing her business acumen, analytical ability, and wide-ranging skills and experience to further enhance and develop the wider security industry and related businesses within the UAE.
Al Anood has been awarded the best security manager in 2017/2018 by Abu Dhabi police.
Professional Skills
Engr Al Anood has considerable experience in creating and sustaining a desired corporate culture and environment, driving the company`s objectives and inspiring others regarding the company`s core values and vision for the future. She has an impressive track record in building, managing, and motivating effective executive teams, while also providing employees with personal development opportunities as business develops.
Education
Engr Al Anood completed her studies for a Bachelor of Science in Engineering at the American Intercontinental University in London, United Kingdom, in 2003. Her journey continued with a Bachelor of Computer Engineering at the American University of Sharjah in the UAE. In 2007, Al Anood earned her Master`s in Business Administration at the American University of Dubai.
Training and Certification
Engr Al Anood has undertaken a number of professional training courses throughout her career, including Security Manager training with CID, Abu Dhabi, the Manager`s Security course with the Dubai Police Academy, she has also been member of the American Society for Industrial Security since 2005.
Ayesha Abdulla AlMulla
General Manager
Background
Raised from an early age to believe in the importance of upholding the finest values, Ayesha demonstrated these beliefs from an early age, with first her academic success, and then her accomplishments in business.
Career
Ayesha first entered the private security industry in 2010, when she joined Spark Security as a Management Trainee. Keen to gain wider experience, she joined the General Secretariat of the Executive Council (GSEC) and has participated in the Department of Abu Dhabi Award for Excellence in Government Performance (ADAEP)'s "Community of Practice," a program that contributes in building and exchanging knowledge across sectors. She returned to Spark Security in 2013 as General Manager where she remains responsible for the daily operations of the organisation.
Other background
With a highly successful background in business, including a Masters degree in International Business and Languages and over 7 years' experience in the security industry, Ayesha's extensive skill set makes her a key figure in the success of Spark with an extensive Security. She has never allowed the fact that she's a woman in the male dominated security industry hold her back. Instead, driven by her desire to improve community safety in the UAE, she was the first woman to complete Security Manager Training CID. The security industry remains one of the fastest growing sectors in the UAE, and Ayesha is determined that Spark remain at the forefront of the industry. She understands that a rapidly changing global marketplace needs the skills and mindset to understand how to continue to grow the business, so she continues to challenge and develop herself as she aims to be a pioneer in business.
Education
Ayesha holds a Bachelor of Science in Business Sciences, with a specialization in Business Studies, at Zayed University. Her academic studies were completed with a Masters in International Business and Languages, which she studied at Abu Dhabi's Paris Sorbonne University. She also holds the prestigious Integrated Management System Internal Auditor qualification, which is vital to Spark's commitment to excellence.